Books I've Read, with One-Sentence Book Reviews and an Emoji Rating System
A few years ago I was completely allergic to reading books. Not medically allergic, I just didn't want to invest the time nor did I see the value of flipping through pages of writing.
I was young and dumb. These days, I average reading one book per week, and wanted to create a place where I could share the books I've read with simple one-sentence reviews of them (including a fun emoji rating system!)
Feel free to bookmark this page and revisit it often 👍🏻
Here's the highly advanced emoji book rating system I've created:
Books with a

green highlight box

are MUST READS!
😎😎😎 means you should DEFINITELY read it
😎😎 means I really liked it
😎 means I recommend it
🤧 means you should skip it
😶 means I couldn't decide (deal with it)
🕵️ means I'm currently reading it
shoot me an email or a tweet at me.
Disclosure: Most of the links below are affiliate links. You don't have to use those, but I get a tiny kickback from Amazon if you do (and it doesn't cost you any extra!) Also, I read 99% of books on the Amazon Kindle Voyage and love it.
Let the one sentence book reviews begin…
---
Books I'm Currently Reading!
I'm currently reading this book so I haven't written a one-sentence review of any kind yet, but when I finish the book I'll review it and move it to the read section!



Profit First, by Mike Michalowicz (Still Reading 🕵️)
I'm currently reading this book so I haven't written a one-sentence review of any kind yet, but when I finish the book I'll review it and move it to the read section!



I'm currently reading this book so I haven't written a one-sentence review of any kind yet, but when I finish the book I'll review it and move it to the read section!



---
Books "On Deck" on My Kindle
Start, Love, Repeat – Dorcas Cheng-Tozun
Dark Age (Red Rising series, Book 5) – Pierce Brown
Final Girls – Rylie Sager
The Flinch – Julien Smith
Nightingale – Kristin Hannah
The Life You Can Save – Peter Singer
The China Study – T. Colin Campbell and Thomas M. Campbell II
The Knowledge – Steven Pressfield and Shawn Coyne
Winners Never Cheat – Jon M. Huntsman
Life – Keith Richards
Memories, Dreams, Reflections – C.G. Jung
---
These are the 30 books I read in 2018
Let me start this short review by saying I LOOOVE Jason Fried and DHH, but, this book is pure common sense if you work for yourself and have figured out how to prioritize balance between life and work (if you haven't figured that stuff out, definitely read this book).



I'm admittedly phoning in my reviews for Books 2-4 of the Red Rising series because they're all equally amazing and you should read them!



I'm admittedly phoning in my reviews for Books 2-4 of the Red Rising series because they're all equally amazing and you should read them!



I'm admittedly phoning in my reviews for Books 2-4 of the Red Rising series because they're all equally amazing and you should read them!



I wanted this book to tell me something I didn't already know, but having lived the "small" entrepreneurial story for over a decade, Burlingham's book didn't have much for me (but maybe it will for you??)



I've never touched such an outwardly-focused self-help book, but was pleasantly surprised to have a bunch of my own ideas about life and taking care of your mental health reaffirmed by such a popular figure in our culture.



I'd heard such glowing reviews for Sedaris' writing and I simply couldn't get into it at all – maybe you'll fair better, but it just wasn't for me.



Thoroughly, thoroughly (!) enjoyed Adeyemi's creativity and story unlike any other I've read in a fiction book in recent years. I can't wait for the next book in this series!



I've believed in the idea of "surprise and delight" for as long as I've been running my own businesses and this book dives a bit deeper into why this strategy is a good one (and how to apply it!)



As a white male I am well-aware of all my inherent priviledges and wanted to read something specifically about our complex racial climate – lots of solid takeaways and practical mindset shifts from Ijeoma.



Genome, by A.G. Riddle – 😎 😎 😎
This is the second book in the "Extinction Files" series by Riddle and it did NOT dissappoint (much like the first book Pandemic).



Punch Escrow, by Tal M. Klein – 😎 😎 😎
Reeeeeeaaaaaaally enjoyed this book! Super unique premise and, no spoilers, an interesting twist on the idea of teleportation. Great read!



Bandwidth, by Eliot Piper – 😶
I read Cumulus from Piper earlier in 2018 and thoroughly enjoyed it. Unfortunately, this follow up book from Piper wasn't as captivating and I shut it down after 40% completely. Bummer.



Pandemic, by A.G. Riddle – 😎 😎
After reading Riddle's Atlantis trilogy I was excited to dive into his newest series starting with this book. I genuinely enjoyed the plot, the characters, and by the end I couldn't wait to start the next book. Solid read.



Tiger Woods, by Jeff Benedict & Armen Keteyian – 😎 😎 😎
WOW. This deep dive into the life of Tiger Woods was incredible! I could not put this book down and have an entirely different outlook on Tiger and his entire life. Highly, highly recommend this book.



This was one of those books recommended to you on Kindle after you finish another book. I pushed through to 51% completion and simply couldn't continue on. There just wasn't anything that hooked me in, even though the premise of the book was pretty unique.



I really wanted to get into an Agatha Christie book but there was just something about it that didn't suck me in to continue to turn the pages. Maybe I'll give it a go again in the future?



I consider Jess a friend and when she asked me to read her book I happily obligded. I don't need a virtual assistant, however, this book also shares Jess' story, which I found interesting!



Abandon, by Blake Crouch 😶
You'll find almost all of Blake Crouch's books on this reading list because I genuinely love his writing style, yet this book felt more like a horror novel than a suspense novel and I couldn't get into it. Just wasn't for me, but maybe you'll like that kind of thing?



I've read every book in the Tracy Crosswhite series by Robert Dugoni and this one fell flat for me. I pushed through to 30% completed and decided to shut it down. Bummer.



Culumus, by Eliot Peper – 😎 😎
I don't typically gravitate toward dystopian novels, but I first heard about Cumulus on the website TheVerge and I tend to trust their recommendation about anything. It did not disappoint! Really enjoyed this book and am excited to read more from Eliot Peper.



You may know Gavin as "Zen Pencils" and have probably stumbled upon one of his comics – I recently found his Bill Watterson comic, which led me to his website, which then robbed me of an hour of my life (in a good way!), and then I purchased this book and read it cover to cover.



It's RARE that I pick up the next book in a series right after the previous one, but that's exactly what I did with the third (and final?) book in the "We Are Bob" series. I found myself excited to go to bed so I could open my kindle and read through a few chapters each night – riveting, funny, and hard to put down.



This is the second book in the "We Are Bob" series and I enjoyed it exponentially more than I enjoyed the first book in the series – I think it was the development of characters and storylines in this book that grabbed my attention and held it tightly from cover to cover.



I could not put Cait's book down – She doesn't hold back on detailed stories of her battles with addiction and fighting personal demons, as well as sharing her journey with minimalism and figuring out what really matters and what she really values in her life. Read this book!



I became a fan of Terry Crews after his role in the movie The Longest Yard where he played "Cheeseburger Eddie" – Nowadays it's hard to miss Crews and that's fantastic given all he's been through in his life and how hard he's worked to get where he is (I don't align with his religious beliefs in the book, but they didn't affect my enjoyment of the stories and life lessons he shared).




This is a tough book for me to say you should or shouldn't read as it's a combination of funny, sad, and a life completely different from mine (which made it hard to relate to and get into at times) – I'd pick up the sample and make sure you watch a Tiffany Haddish interview or two to get her personality.



I was at a wedding and met a stranger who was a voracious sci-fi reader so I asked her what her favorite book was and she mentioned the "Bobiverse series" – A super interesting premise for a book (trilogy) that took awhile to get into, but I thoroughly enjoyed by the end.
---
These are the 33 books I read in 2017
Man, Ron Perlman is such an interesting dude! Reading about his winding path through life and celebrity was a definite page-turner (full of laugh out loud funny moments).



Artemis, by Andy Weir – 😎 😎 😎
The much anticipated follow-up novel from the author of The Martian – I gave this book three 😎 because it deserves to be read and was just as good as Weir's first book… IMHO.



I struggle with getting a good night of sleep and always have – after sharing that fact with the Action Army multiple people mentioned this book and I was surprised by how non-boring it was (although, I was already doing most of the strategies, so no huge increase in sleep improvement).



I am a Blake Crouch fan and decided to dive into this trilogy, however I will warn you, this series is verrrry dark and is probably best not read right before bed – haha.



Second book in the trilogy and it brought some hair-raising twists and turns that I wanted to recommend for you to read, but things get even darker in this book so choose wisely.



Break You, by Blake Crouch – 🤧
The final book in this trilogy really threw me for a loop and mostly because it felt forced, very violent for almost no reason, and didn't leave me feeling good about life (which… may have been the point, so kudos to Crouch for that).



This book won't be for everyone, but if you're a nerd and enjoyed computer/video games, you definitely remember Doom and the height of its popularity – this behind the scenes look at the "two Johns" who created Doom was a really fun read.



I really dig the concept behind this book, but after reading 50% of it, I couldn't find a reason to continue to flip the digital pages on my Kindle (so, I guess I'd recommend it, but you don't need to read the entire book?)



If you're looking for a new sci-fi trilogy to dive into, this is the one for you – Riddle's writing is action-packed, has a few twists and turns, and is very imaginative.



I'm typically going in with low hopes for the second book/movie/etc of any trilogy, but this one did NOT disappoint as the plot thickened and the character development continued.



When I finished the last page of this book I put my Kindle down, looked at my wife, and said: Damn, I wish there was another book in this series! – The third book may be the best in Riddle's trilogy.



Cradle to Cradle, by William McDonough & Michael Braungart – 😎
I'm giving this book a positive review with a caveat: It's not a page-turner, but it is a book that makes you think about the things you buy, how those things are made, and why you should think more consciously about your purchasing decisions.



If there's one thing I really appreciate about Kevin Hart, besides his hilarious way of looking and talking about life, it's his honesty about his shortcomings and how much hard work actually goes into success.



Like most humans, I looooove me some Kid President – I did feel resistance to continue to open and read this book, and I believe it's because I got what I needed from it in the first few pages.



This was the second book of my friend Colin's I (finally) picked up and any book by Colin is worth your time, money, and attention.



Snowbound, by Blake Crouch – 😎 😎 😎
It's safe to say Blake Crouch is my favorite author – This was one of those book I not only couldn't put down, but I also had incredibly vivid mental images of the characters from Crouch's writing.



Run, by Blake Crouch – 😎
I read this book right after Snowbound and while it was good, I think my brain was stuck in the previous story and couldn't fully enjoy this one – definitely recommend it though!



I woke up one morning to an email asking if I'd write the foreword to a book about taking more action, along with a copy of the book itself – I was skeptical, but as a turned the digital pages I realized this was the book I'd write about action-taking, so I happily wrote a foreword and fully endorse this book!



Following JP Sears on Twitter is fantastic, so when I saw he wrote a book I was truly excited and pre-ordered it immediately – Unfortunately, the book couldn't keep my attention and kind of fell flat for me.



Trevor Noah had humungous shoes to fill at the Daily Show and he's done a fantastic job, which is why I was happy to dive into his book which was just a delight (and amazing to learn where Trevor came from).



Dust, by Hugh Howey – 😎 😎
Dust is the third book in Howey's Wool trilogy and it was a great wrap-up to a solid (but admittedly long) series of fiction books.



A book I really wanted to get into, but every time I opened my Kindle and read the words, it just couldn't seem to keep my attention (maybe it's worth a shot for you?)



100% truth: I skim-read my friend Pat's book, but mostly because I have my own personal experience to test my ideas and find out of they're worth pursuing/launching/etc – I definitely recommend this if you're just getting started in biz.



Wayward, by Blake Crouch – 😎 😎 😎
Oh hello again Blake Crouch! I read the first book (Pines) in 2016, and for some stupid reason I didn't just continue with the second book of the trilogy – this series is soooo good!



I wisen-ed up and dove right in to the third book in the Warward trilogy right after the second one and giddily flipped the pages wondering what would happen next.



While reading all these fiction books and finding out so many of them were optioned for big screen adaption, I got really curious to learn more about writing and selling a movie script, which is why I picked up Snyder's book – It may not be for you, but I found it interesting.



Soooo…. I know I read this book because it says 100% completed on my Kindle, but I couldn't remember a damn thing about it – I guess that says something? No clue. Sorry. #honesty



The fourth book in Dugoni's Tracy Crosswhite series picked up right where the previous three books left off, filled with small twists, turns, and mysterious events.



Departure, by A.G. Riddle – 😶
This was the first book of Riddle's I picked up, and I struggled to find interest in continuing to read it – Maybe I'll give it a go again in the future?



---
These are the 45 books I read in 2016
I'd read Creativity Inc but was intrigued by this book to learn more about Pixar's business, the crazy Disney contracts, and unique stories about Steve Jobs.



I loved loved loooooooved Holiday's book The Obstacle is the Way, but didn't love love loooove this one (military history doesn't inspire me).



Total Recall, by Arnold Schwarzenegger – 😎😎
Like him or hate him, Arnie has had a pretty crazy life and I appreciated learning more of it from the Austrian horse's (honest) mouth.



I could never write a book as eloquently written as this book and that intimidated me and made it hard to finish (just telling the truth!)



I found this book on Kindle Unlimited for free and decided to see if a book with 12,500+ positive reviews could live up to the hype — and not only did it live up to the hype, it sparked my interest in fiction books.



This is the follow-up to My Sister's Grave and it did not disappoint, if anything, it appointed and appointed really well!



I'm not sure if I got burnt out on fiction by reading too many fiction books back-to-back, or maybe just the character in these books, but it took me way longer than it should have to finish the third book in this series.



As a fairly big NFL fan, I've heard Joe Buck's voice and seen his face on TV quite a bit, when I saw he wrote a book and was going to talk about all the things he couldn't talk about on TV, my interest was piqued and rewarded (great job Joe!)



The subtitle (How to Use My Life Story to Become the Best Joel McHale You Can Be) is the absolute best part of the book and I find Joel McHale funny in movies and TV.



The Fold, by Peter Clines – 😎
This was another Kindle Unlimited find and I was pleasantly surprised by the creativity of the story and the ease in which I tore through this book.



I heard about this book on a podcast and I was really excited to give it a go, but alas, as much as I loved the visuals in the book I simply couldn't get into the story for some reason.



Dark Matter, by Blake Crouch – 😎😎😎
I found this book in an article on The Verge about upcoming sci-fi books and really REALLY enjoyed this book (more from Crouch in a minute).



Unsubscribe, by Jocelyn K. Glei – 😎
I've been able to get a solid grip on my use of email before reading this book, but it's a GREAT refresher and an important read if you feel like your email inbox controls your life.



I really wanted to enjoy this book, but I just never felt a strong connection to the words on the pages — sorry Anna (since I know you read my site – haha).



Originals, by Adam Grant – 🤧
Since these are my book reviews, I'm just being honest, but I get bored quickly with books that have 1,000 examples from other people and nothing from the author's experience.



I consider Colin a friend and for some odd reason had never picked up one of his books — I'm proud to say this was a very insightful read and I'll be consuming many more books from that well-coiffed Colin guy.



Shoe Dog, by Phil Knight – 😎 😎 😎
I've been a Nike fan my entire life, but I, like many people, took what the media was saying about Nike at face value and was happy to read the perspective and stories straight from the shoe-wearing horse's mouth.



I thoroughly enjoy Mark Manson's writing (especially this piece) and was happy to purchase his book and enjoy a much longer-form read from him. Even though I do a pretty good job of not giving a f*ck, if you don't do a good job of that you should read this book.



You either enjoy Amy Schumer's humor or your don't, and I laugh out loud at all her vagina jokes so it's a win for me!



Shift, by Hugh Howey – 😶
The second book in the Wool series, and while there were some good parts, I found myself thinking it didn't quite hit the mark that Wool did.



My wife read this book next to me in bed and laughed out loud almost every single time she read it so I knew I had to give it a read even though I've never watched Gilmore Girls — Lauren's writing was LOL-worthy, but I could see how this book wouldn't be for everyone.



I really wanted to enjoy Mr. Feynman's book and I certainly did enjoy parts of it, but it felt like it took me forever to finish and I was never super excited to pick it back up and keep reading.



Yes, I read my own book again in 2016, but it was for good reason because I was working on my second book — truthfully, my first book was a first attempt at writing and it's not stellar, but I'm still damn proud of it.



Apropos to have this listed right after my own book, probably, but this one was a quick read and had some solid nuggets of wisdom in it.



This was the first year I'd read anything from Wait But Why and I'm angry with myself that it took me this long to do so — If you haven't read ALL of Tim's articles, this is a great place to start.



Listen, the entire world has a boner for Elon Musk, and I'm no different, but I really loved buying the Kindle version of this blog series and supporting Tim's efforts again.



Deep Work, by Cal Newport – 😎 😎
This book has a terrific message that anyone running their own business or working on creative ideas should read and focus on (heh).



Marie's book has an astounding 12,000+ positive reviews and I decided to give it a go — it wasn't a page-turner, but it made me feel better about my pre-existing tidying OCD.



This book came out 10 years ago and I had only heard about it because it was becoming a TV show that looked interesting, the book did not disappoint and was a super unique story and fun read.



Tokyo Vice, by Jake Adelstein – 🤧
I just could not get into this book and I have no idea why, I tried and tried and tried and finally had to quit.



Saying I "read" this book is a bit of a stretch because it's more of a picture book, but I still enjoyed it and you might too if modern architecture tickles your fancy.



I was never a fan of Steve Martin's style of comedy, it just doesn't make me laugh, but I thoroughly loved every page of his story and learning more about his journey and how hard he worked in his career — a really well done autobiography.



I'm going to give this book my recommendation, but with the caveat that I did skip a bunch of the interviews because they were uninteresting interviewees (to me), that being said, the style of this book was really cool and it was awesome to learn how dedicated Judd was to soaking up the experience of successful comedians as a teenager!



True story, Dave Holmes and I met for coffee/breakfast in 2010 — He was such a nice guy and I ordered his book the minute he said it was available (and enjoyed every single page, especially the real story of Dave's MTV "life").



Think Like A Freak, by Steven D. Levitt and Stephen J. Dubner – 😎 😎
I 100% consider myself a freak and after reading Freakonomics last year, was happy to pick this book up and turn the pages.



Another author that was well-acclaimed that I had never read anything by, David Foster Wallace's writing style really resonated with me (and makes me laugh out loud) and the story of his experience on a random cruise ship was hilarious.



My wife and I found Jensen Karp's podcast (Get Up On This) on a road trip a few years ago and he's been a favorite (funny) person to follow on Twitter — When Jensen started talking about his book and his story of becoming a semi-famous white rapper, my interest was piqued and I read the book in one sitting.



My buddy Matt is back with another recommendation and this was a really interesting book about the life of Jim Hensen (heads up, it's a long read).



After finishing Jim Henson's biography I jumped into Chuck Jones' autobiography and simply didn't have the same enjoyment or excitement to continue to turn the pages.



This was a shorter book I found on Kindle Unlimited that told the story of the shoe brand AND1 that I was a HUUUUGE fan of as a kid, very interesting read for a very niche audience.



---
These are the books I read before 2016
Yes Please, by Amy Poehler – 😎 😎 😎
I was 25% through reading this book on my Kindle when my wife and I decided to listen to the audiobook version on a road trip, and I couldn't be happier we did! The pudding metaphor was LOL-worthy!



Essentialism, by Greg McKeown – 😎 😎 😎
This was the first time I read this book and it was suuuuuch a great way to think about how you focus your time and energy (whether in life or business) – Read this book!



Such a great book, but you probably already knew that – feel free to listen to a full podcast episode where I gush about Andy Weir's book with my BFF Paul Jarvis (who is also featured here twice as an author).



As a proud "freak" I was honored to be mentioned in Chris' book and enjoyed reading stories of other featured freaks – let your freak flag fly!



Freakonomics, by Steven Levitt & Stephen Dubner – 😎 😎
Speaking of freaks… I had heard great things about Freakonomics and decided to pick it up – it did not disappoint and was a really interesting read.



Mr. Durrell's book is highly touted, well reviewed, and was personally recommended by a friend, but it felt a bit too verbose for me and I simply found it hard to get into.



A very tactical book about, you guessed it, selling your own book – This is a solid read if you're thinking about writing your own book (or have and didn't sell any copies).



Linchpin, by Seth Godin – 😎
I really don't think you can go wrong with any book by Seth Godin, and this one does a great job of helping you understand the power of YOU and understanding the importance of your ideas/business/etc.



The Dip, by Seth Godin – 😶
We're in the Seth Godin section of my book reviews, and truthfully I can't remember reading this book and feeling like I had a big A-HA moment (although, re-reading the description makes me want to read the book again!)



Tribes, by Seth Godin – 😎
Still in Seth Godin-town, Tribes was the first book I read that explained the power of community and about finding the RIGHT people to surround yourself with.



A must-read from Seth Godin if you're trying to understand marketing in the digital age, especially if you're doing an email marketing (although his principles apply to other marketing areas too!)



Even though AJ and I don't talk all the time I consider him a great and trusted friend who is wise behind his years -This collection of essays is eye opening and FULL of wisdom.



I am a huuuuge Pixar fan and was excited to read Ed Catmull's recounting of the early days of the company, of working with Steve Jobs, and how to promote creativity with employees (when I used to have employees – haha).



Normally I don't enjoy a book that's a collection of stories from other people, as I like to hear from the author and their personal experiences, but I read Chris's book at just the right time in my life and enjoyed all the stories.



Someone smarter than me has a great quote that says something like: If you don't help people when you're just starting out, you won't help them when you're rich – Adam Grant's book dives deeply into that sentiment.



I'd heard good things about Ramit's book, but the title always made me feel icky – I put that aside while making big changes in my life (my values) and Ramit absolutely nails redefining what "being rich" means.



Rework, by Jason Fried & David Heinemeier Hansson – 😎 😎 😎
MANDATORY READ ALERT!!! I cannot recommend this book enough, whether you work for yourself and want to start your own business, you have a side hustle, or you already own your own biz and want some inspiration.



Paul is my Internet BFF so it's hard not to blindly recommend his stuff, however, I really do enjoy the way Paul writes and he's been a big inspiration for me on how I think and write.



Trevor Blake's book came at the exact right time for me as I transitioned away from my IWearYourShirt business and was trying to figure out what to do next and how to control my time toward my next business venture.



The War of Art, by Steven Pressfield – 😎 😎 😎
If you've heard of this book, there's a perfectly good reason: Pressfield does an amazing job of explaining resistance, how it affects us in unique ways, and how the heck to deal with it!



Between this book and Austin Kleon's second (up next), I enjoy the message of the content, but I thoroughly enjoy the presentation and uniqueness of the design of these two books (I'd highly recommend buying the paperback version of Kleon's books).



The follow-up to Kleon's first book, you cannot go wrong with early of these reads, especially if you grab the actual paper version and bask in the wonderful book layout and design.



I really enjoy James Altucher's brutal honesty and vulnerability – Choose Yourself is a great read if you haven't yet committed to the fact that you are enough and you can do all things.



The Circle, by Dave Eggers – 😎 😎 😎
Before Tom Hanks, Emma Watson, and John Boyega took the big screen to adapt this novel, it was the first fiction book that I tore through without any hesitation (this was also my first realization that a book can be better than a movie).



One of the few times in this list I simply couldn't remember any big takeaways from a book I read… so… take this "review" for what its worth.



I've read, and own, every Calvin and Hobbes book (including the massive collector's edition) and I giddily re-read this collection of cartoons while creating a weird morning ritual.



Of the two GaryVee books I've read, this one resonated more with me and is a great read if you have customers and want to build habits to attract (and reward) more customers.



Crush It!, by Gary Vaynerchuk – 😶
In 2009 I thoroughly enjoyed the message of Gary's first book, but these days, it's not something I need and I don't subscribe to the "hustle" lifestyle.



Almost everyone has heard the term "Minimum Viable Product" these days, but if you haven't, or simply want to understand creating a business in the digital age, read this book!



My introduction to my BFF Paul Jarvis was from a free email course about writing that ended with a pitch to purchase this book – I read it in one sitting, fired an email to Paul about how much I enjoyed his writing and perspective, and the rest is history!



I read this book many moons ago and don't remember much more than this: Everyone should read this book once, whether you're a whiz at marketing or not (and don't ask my why that's what I remember – haha).



By now EVERYONE has heard of this book, but when I read it in 2007 (as the second book I'd read by choice!) and was just starting my first business, it was a helpful mindset shift away from thinking I needed to work 40-hour workweeks.



---
Some overall takeaways from my experience reading nearly a book a week…
If you've read this far, then you care what I think about the books I read (which is awesome!) Going from reading ZERO books a year, to almost one a week, these are the things that have stood out to me.
Much like anything else, try new things when it comes to books.
Never in my wildest dreams did I think I would be tearing through fiction trilogies left and right. I felt like reading always needed to be informative, so I naturally gravitated toward nonfiction/business books. But, as I gained more personal experience with business, I realized reading business books wasn't very fulfilling anymore (and often distracted me from following my own intuitions). I'm really into sci-fi books these days, but in a year, maybe it'll be romance novels!??
I would love to find more female authors.
It wasn't for a lack of effort, I simply found books authored by men much quicker and much more recommended. If you have recommendations please share!
I would love to find more comedic books.
I'd never read anything "funny" before 2016 and I quickly realized how dumb that was when I read Amy Schumer's book and listened to Amy Poehler's audiobook (maybe I just need to read books by people named Amy?)
Books are a wonderful distraction from mindlessly scrolling through social media.
As someone who is trying to pull away from the majority of social media, I'm finding myself with extra time on my hands that I want to fill with something thought-provoking or entertaining. Yes, I realize I'm waaaaaay late to the book party, but I'm here now, so let's keep having a great time and not dwell on it.
The Kindle is an amazing invention.
I might be telling you something you already know, but I resisted reading on a Kindle for a long time. Nowadays, I love having all my books on one device that I can take anywhere (and have taken around the world!)
Give books (and lesser-known authors) a chance!
Again, I may be telling you something you already know, but as a former non-reader, I've gotten so much value out of the reading I've done these past few years.
So… what're you reading?
Creative and Unique Gifts For Entrepreneurs
As much as I love a good gift, I'm also a minimalist and I try not to fill my life with too many things.
I share the list below, not as a collective list of things I own, but as a list of items that you or the entrepreneur in your life might enjoy.
Each section of gift ideas is ordered by price (lowest to highest).
I've also added notes for each item and some items have an affiliate link where I'd make a small commission if you make a purchase. At the bottom of the list, you'll also find options for the minimalist in your life who may not want a physical gift.
And now, the unique gifts for entrepreneurs!
---
Desk Items For Entrepreneurs
Every entrepreneur needs notebooks. We all have so many hair-brained ideas! I love, and own, a bunch of Field Notes notebooks in various sizes. These are perfect stocking stuffers.
I love how my leather mouse pad from Ugmonk has aged over time. I don't worry about spilling coffee or putting cans of LaCroix on it. The craftsmanship on this thing is fantastic, and you should expect nothing less from products created and sold by Jeff from Ugmonk. Photo credit: Ugmonk.
Speaking of craftsmanship, you can't go wrong with anything made by the folks at Grovemade. This simple pen cup is a beautiful way to organize pens and other straggling desk items. Also available in maple. Photo credit: Grovemade.
My friend Matt told me about these puzzles. I didn't consider myself a big "puzzler" but once I saw the unique shapes of the puzzles pieces (look closely!) I scooped one up. Safe to say, Liberty Puzzles are one of the most unique gifts out there, especially if you have them make a custom puzzle based on your own photo. Be warned: These puzzles are difficult!
When Tom and Dan from StudioNeat announced this dock, I purchased the iPhone version ($45) immediately. It's kind of like a home for your iPhone, where it can stay warm (charged) and be in a permanent state of reclined relaxation for your viewing pleasure.
When I heard the Kickstarter for this coffee table book was happening, I was elated. The book is full of some of the best crowdsourced photography in the world, and you get it for just $60 with some fun stories from the photographers. Photo credit: Unsplash.
Look at this sexy beast! I stumbled across this fun "desk calendar" on Instagram. So fun. So cool. A great alternative to a standard paper calendar that lays on your desk (or hangs on your wall).

---
Productivity Gifts For Entrepreneurs
Yes, yet another notebook/journal. Where the Action Journal products are different from standard journals is they give you a format for taking notes and then taking action on those notes. Now all those hair-brained ideas can actually turn into real businesses! Photo credit: Dave Emmitt.
I wanted a productivity tool I could hold in my hands that wasn't an app on my phone or computer (let's face it, productivity doesn't happen online). These hourglasses are super affordable, look great, and help get things done. Photo credit: Amazon.
Reading books has definitely made me a more productive person. Having all of my books stored in a device that fits in my back pocket is hard to beat. There are multiple versions of the Kindle, just get this one. I've done the research for you.

---
Recommended Books For Entrepreneurs
This is the book I recommend the most. To anyone. Ryan Holiday's writing will help you reframe the way you look at the tough moments in your life or business. A must read for entrepreneurs.
I've read Rework more than any book I own. It's the best business book I've ever read. I go back to it constantly for inspiration and real-talk about running a business.
Elle Luna's book was born out of a popular article she shared a few years ago. Not only is the book full of great content to read, it's also full of beautiful artwork too.
The last of the nonfiction recommendations. Essentialism is a principle that can be applied to life and business. Read this book or buy it for an entrepreneur, you won't be disappointed.
One of two fiction books I couldn't put down in the past few years. The Circle is coming out as a major motion picture in 2017 starring Tom Hanks and lots of other important actors. Read the book though, it's really good and eye-opening.
Many of you reading this list may have heard of Blake Crouch or his first successful book Wayward Pines. I hadn't. I started my Crouch author experience with Dark Matter and am happy I did. A fun read with a few good twists and turns.
I've heard nothing but rave reviews of the quality and craftsmanship of Offscreen magazine. Support the good folks behind Offscreen and share the gift of unique entrepreneurial stories.

---
Gifts for the Audiophile Entrepreneurs If you or an entrepreneur in your life needs to record audio for interviews, a podcast, or other things they want to create, this $80 lavalier (lav) microphone is a steal. It's the best microphone to start with if you want great audio for an affordable price. Photo credit: Vimeo.com.
These are my earbuds of choice. I've tried over 20 different earbuds and they all were terribly uncomfortable and sounded mediocre. The SoundSport's fit amazingly well and never fall out due to the in-ear design. Photo credit: CNET.com.
You've probably heard about this thing. In three words: It is great. The Echo has the speaker quality of any small portable-ish speaker (it is wired) and is loud enough for a small office or living room. Alexa, much like Apple's Siri, does a decent job with her voice activated robot duties. The Amazon Echo Dot is the smaller option, but know that it needs to be paired with another speaker to have quality sound. Photo credit: TheVerge.com.
Stepping up from earbuds, if you're looking for the best bang for your buck when it comes to noise canceling headphones, Bose has you covered. For the frequent traveler, these are a must. Photo credit: CNET.com.
If you looked at the photo of these, you know why they're on the list. Another amazingly stunning product from the folks at Grovemade. Yes these are pricey, but you'd never have to buy another set of desk speakers again. These are available in maple as well. Photo credit: Grovemade.

---
Video Related Gifts For Entrepreneurs
I started this list off with a note about minimalism. Minimalism has truly changed my life. I've become a happier person and have been able to shed so many unnecessary things (both physical and mental). Find your own flavor of minimalism after watching this film or gifting it.
This is a great alternative to the item next on the list. If you want a simple way to watch things on your TV from your laptop, or get access to certain apps directly on your TV, you can't go wrong with this affordable little gadget from Google. Photo credit: Gizmodo.com.
The 4th generation of Apple TV is fantastic. I've owned each iteration, and the newest version is a huge step up in experience and usability. I find Siri to be worthless on my phone, iPad, or laptop, but essential with Apple TV. I've completely replaced my cable subscription thanks to all the apps available on Apple TV. Photo credit: Tested YouTube Channel.

---
Apparel Gifts For Entrepreneurs
Most people own boring socks. Why? Step up your sock game, and do it with some pizzazz. Plus, with a name like Foot Cardigan, they can't be wrong about their choices for your feet.
This is my go-to for new t-shirts. I have a rotation of 8-12 t-shirts and when I wear through one, I order something new and support an artist on Cotton Bureau.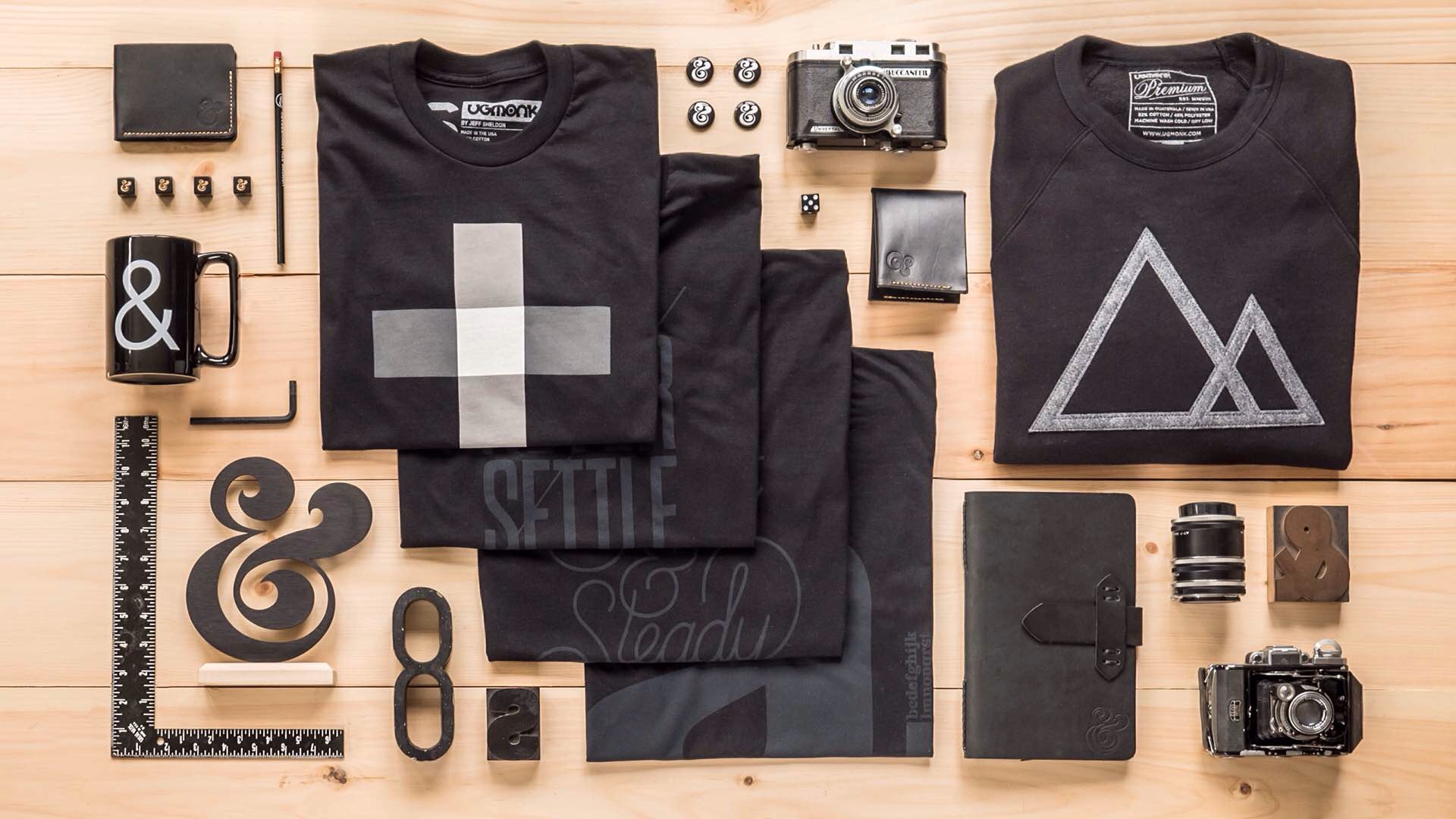 You can't go wrong with any of the t-shirts from Ugmonk. They're all meticulously well-designed, printed with eco-friendly ink, and the shirts used are high quality. My three favorites are: Mountains, Less, and Plus Minus. Photo credit: Ugmonk.
Every entrepreneur (and hipster) needs a good beanie. Everlane makes fantastic products at super reasonable prices. Your head (or a friend/family member's) will thank you for buying this. Available in gray and black.

---
Travel Necessities For Entrepreneurs
Everlane is back on the list with this sleek and simple backpack. As much as I love Jansport, we all have to grow up sometime. Everlane has a bunch of other backpacks to choose from. The entrepreneur in your life will also appreciate Everlane's transparent business philosophy (look at the bottom of any product description on their website). Photo credit: Everlane. 
I'm a sucker for a nice duffle bag (hence why there are two in this list). Herschel makes quality products at spot-on prices. This style of duffle from Herschel comes in 30+ styles! You'll be happen with any product from Herschel. Photo credit: Rushfaster.com.
This is a great option if you want to graduate from a backpack to an "adult bag." Since everything from Ugmonk is meticulously well-crafted, this bag will last a lifetime (And then some). Photo credit: Ugmonk.
If you forced me to pick ONE item on this entire list of gifts, I would pick the Minaal Carry-On. It wins, hands-down, the best travel bag I've ever owned. It's extremely versatile and the perfect size bag for people who travel lightly. Photo credit: Minaal.
---
Everyday Carry Gift Items For Entrepreneurs
Hello stocking stuffer! Simple. TSA friendly. A great little tool at a fantastic price.
I recently pre-ordered this compact tripod. I haven't received it yet, but the idea of it alone was worth sharing on this list. If it lives up to half its potential, it's well worth it's weight in rose gold. Available for iPhone and Android devices. Photo credit: Pocket Tripod.
The best minimal case you can nestle your phone into. The guys from Need/Want make great products, and the Peel case lives up to their high standards. Available for most iPhones and some iPads. You can get 20% OFF if you click this link. Photo credit: Peel Lookbook.
Luckily, I'm not someone who misplaces things (call it OCD, fine, but I don't lose stuff, ever). If you or someone you know is frequent losing their keys or just wants a way to keep track of important items, the Tile Mate is a great gift. Photo credit: Digital Trends.
I'm on my second slide wallet from Stitch & Locke. The first one lasted two years of pretty hard usage. As far as slim wallets go, this is my favorite. Come to think of it, I should just buy a few more to have on hand when I wear through the next one.
Taking the keyring from flimsy and boring to high quality and cool. Not only does it look great, but it also doubles as a bottle opener. Available in other colors and finishes. Photo credit: Grovemade.

---
Every Entrepreneur Needs Coffee Gifts (because, coffee)
Ugmonk is on the list for the final time. I never enjoyed the bamboo collar that comes with the Chemex. I love the simplicity of this leather collar, plus it looks more rustic and weathered as you use it. The leather collar comes in natural, brown, and black leather. Photo credit: Ugmonk.
The sexiest kettle you'll ever find. In matte black and chrome, this thing is simply the most beautiful way to pour hot water over coffee grounds. Photo credit: Frontsf.com.
Whether you or someone you know wants to elevate their coffee game without breaking the bank, this is your one-stop-shop item. This is the perfect starter kit for drinking better coffee. Photo credit: La Colombe.
Speaking of better coffee, grind your beans yourself people (and do it right before you make your coffee). Yes, this grinder isn't cheap, but it has a built-in scale and grinds your beans to absolute perfection. Photo credit: Oxo.

---
Not-Physical-Goods Gifts For Entrepreneurs
Donate to their favorite charity or cause!
Everyone has a favorite charity or non-profit. Make a donation in their name and wrap a note about the donation.
***
And that wraps it up! Hope you've enjoyed this gift guide for entrepreneurs.
MacBook Pro with Touch Bar, A Comprehensive First-Look and Review
With the arrival of the newest, new, most innovative, best-ever, MacBook Pro of all time, I was ready to upgrade my lowly late-2013 build 15″ Retina MacBook Pro. And hey, why not write a first-look and review of the MacBook Pro with Touch Bar.
Enter in, my new 15″ Retina MacBook Pro…
---
My journey with MacBook Pros dates back to 2005
My journey with Apple laptops started with the massive 17″ MacBook Pro back in 2005. Since then, I've always had a trusty MacBook Pro by my side. In fact, since 2005 I've owned ten MacBook Pro laptops (and not because I was starting a circus act where I juggled laptops).
Why share this with you? Seemed fun. Let's keep going.
Leading up to this latest Apple event I wasn't in dire need of a new computer, but I firmly believe in investing in good hardware. As a solopreneur who has as many businesses as most people have pairs of underwear, a few extra seconds saved while loading Photoshop or Final Cut Pro X can go a long way.
Here's the side-by-side comparison of the specs of my previous MacBook Pro and the brand new, all-new, life-changing MacBook Pro with fancy Touch Bar:
New on the left. Old on the right.
As you can see in the specs, these two machines were fairly maxed out given the options at checkout on Apple's website. Kind of like the cars on Pimp My Ride. I really miss Xzibit putting hot tubs and Viking stove ranges in the back of Toyota Tercels.
Anyhoo…
Let's get superficial and start with the looks of the newest Apple MacBook Pro with Touch Bar
I like my dock icons small. Deal with it.
Every laptop review article deserves a sexy bedroom photo.
The MacBook Pro with Touch Bar would get a 9.8 on HotorNot.com.
It's dead sexy.
I was skeptical about the space gray color, but it's really nice. Think about it like this: The older silver MacBook Pros are George Clooney. He's great. He's handsome. Everyone loves George. But these new machines? Ryan Gosling all the way. Sharp edges, but not too sharp. Well proportioned. A look that's timeless, but also sophisticated.
A missed opportunity to call this the MacBook Gosling?
I think so, but hey, that's just one man's opinion.
The trackpad. It's reaaaaally big. (twss)
Hmmm… Being that I'm the person writing this review, I have to review it from the perspective as a large human being with extra large hands. How extra large you ask? Go to the gorilla exhibit at any zoo and find the bronze gorilla hand you can put your own hand on top of. You know how your hand looks childishly small in comparison to a gorilla's? Mine is pretty much the same exact size as the gorilla's. I'm not kidding.
As soon as I started to type on my new MacBook Gosling, my gigantic left thumb graced the top left edge of the enormous trackpad. Did my mouse just move on its own? Is there a ghost in the machine? Neo??
Nope. Giant trackpad is giant.
The more I used applications and typed on the keyboard, the more my left and right hand seemed to touch the trackpad at the same time. Pretty soon I was in zooming, swiping, and even ending up in the completely useless Mission Control app launcher thing without my express written consent.
If you have large hands, welcome to the club, and, the trackpad will take some getting used to.
Seriously though, who uses that dumb Mission Control thing? You should have gotten rid of that Apple and let us keep our MagSafe connector instead (more on this epic tale of sadness in a moment).
Gorilla hands are gorilla hands. I'm sorry if you thought I was lying.
A quick trip to system preferences and I turned off all gestures. Maybe I'm not the use-case for these gestures, but I've simply never found them helpful and have never once pinched to zoom on my MacBook Clooney.
That's the bad of the trackpad.
The good? Force touch works well. Especially if you've upgraded to an iPhone 7 and have spent time getting accustomed to it on the home button. If you've never used force touch before, it can be a little weird at first.
The keyboard on the new MacBook Pro is L-O-U-D, but nice…?
As a gentle giant, I am very aware of how loud I walk, talk, and impact the world around myself. I immediately noticed how loud the butterflies were that lived under these new keys.
I'm writing this review about 8 feet from my lovely wife who is using a 15″ Retina MacBook Clooney and I can hear her typing. But, it's a different sound. To best describe the sound differences would be to say the MacBook Clooney keys sound like you're typing on a keyboard (very familiar sound). The MacBook Gosling's keystrokes sound like you're breaking boards to achieve your yellow belt in TaeKwonDo (which, I was a very proud owner of when I was 13 years old).
The keys are loud. Maybe not louder per se… Maybe just different loud. I love the feel of the keys. That shouldn't be overlooked. They feel wonderful. But, the loudness of them is distracting right now. I'm sure I'll get over it, just like I got over realizing I'd never be able to fit my enormous hands in a soothing pair of Isotoner Gloves™.
Oh, small note: Why did they make the left and right arrow keys so damn big? They didn't need to do this and it just makes the up and down arrow keys jealous and very self-conscious.
The USB-C/Thunderbolt Whatever/No more regular ports/#DongleGate2016
Look at that sweet, sweet USB-C connection action!
Macbook Gosling atop Macbook Clooney. A dream come true for some.
Getting rid of the MagSafe connector for the power cord sucks.
Yeah yeah, I know some tech wizards are making adapters that you can use for USB-C ports that will make them MagSafe, but I buy Apple products to not have extra gizmos and doo-dads (and whosits and whatsits galore!)
When Apple removed the CD/DVD drive, people went ape-shit. Well, not really, only people in Arkansas who still loaded their 24 FREE AOL CDs into their computers.
Getting rid of the CD/DVD drive made sense, it was a completely outdated technology.
USB, HDMI, Mini DV (sometimes), and SD Cards are not outdated. In fact, they are quite abundant and used by many. Dated, some would say.
I primarily used the USB ports and the SD Card slot on my MacBook Clooney. If I had to tell you how often I used them? The USB daily, the SD Card 2–3 times per week. The other ports, meh, not a big deal to see them go (at least until I need them, upon which I'll freak out and punch the nearest toddler — I'm totally joking, I'd just ask the toddler if his parents have an extra dongle).
I ordered two USB to USB-C adapters from Apple and an SD Card to USB gizmo. The $44 spent wasn't that painful and now I simply have these things to carry around:
Dongles on dongles on dongles.
In the grand scheme of life, #DongleGate2016 will not be as big of a deal as people are making it. And I will give Apple credit, the sides of the laptop look exponentially better without the icons and different port sizes.
One thing I wanted to touch on: Unplugging cords from my shiny new MacBook Gosling SUCKS.
Maybe, just maybe, it's my oversized fingers that struggle to grasp such a small cord, but I know i'm going to miss the quick connect/disconnect of MagSafe dearly.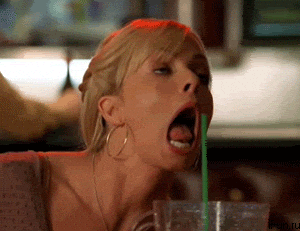 And it's worth mentioning, hello there headphone jack! So nice of you to exist. You are convenient and about 6 billion people on the planet use you. You make sense! Please don't ever leave us, like you did on the iPhone 7. I am a little bummed you moved across the street (the other side of the laptop). I've tried plugging you in multiple times in the wrong spot and it's made me feel like someone trying to drink out of a straw but missing multiple times.
Now, the feature you've been scrolling to read about: Touch Bar

Let me be as crystal clear as crystal: I WANTED to love the Touch Bar. I really really really wanted to.
As much fun as it is to scroll through emojis on the keyboard, it's faster and more intuitive to just press control+command+space bar on the keyboard and pop up the emoji menu (which you can also search through!)
The Touch Bar is not helpful and it's mainly because of its size.
It's, at best, 1/2″ tall and we all know how much 1/2″ gets you, amiright?? Wait, what?
Touch Bar is not helpful. You know what's helpful? The giant trackpad. That's a 4×6″ clickable, scrollable, swipe-able, drag-able, get-things-done touch area.
Touch Bar in Final Cut Pro. Incredibly… not useful.
One of the most frustrating things about the Touch Bar is that for the past decade of using Apple laptops, you could easily increase/decrease screen brightness, skip/play music, and hit the ESC key when things go awry and you accidentally make something full screen (ugh, THE WORST).
I totally understand what Apple is trying to do with the Touch Bar. But as a strip across the top of the keyboard? It's a failed attempt.
You know what would have been revolutionary with this MacBook Gosling? Replace the entire keyboard and trackpad with a Touch Area. The entire thing. No keys. No trackpad. Talk about making a technological leap. The Touch Bar, instead, feels like a technological toe tap (and don't even get me started on trying to use your toes to operate the Touch Bar!)
Final thought on the Touch Bar: 99% gimmick, 1% usefulness.
The 1% usefulness of the Touch Bar, that only works with like 5 websites/things right now.
---
Final thoughts about the new Macbook Pro with Touch Bar
Some final thoughts, observations, and the answer to the BIG question: Should you buy a MacBook Gosling?
Screen brightness
The MacBook Gosling has a noticeably brighter screen. Kind of like Ryan Gosling has had noticeably less wifes than George Clooney. I'm not sure that joke even makes sense.
Battery life
I spend a good part of my day on Skype video calls, creating and syncing fairly large files in Dropbox, and editing audio or video in Final Cut Pro. I wouldn't say the new MacBook Pro's battery is way better, but it is better. I'd guess I get an extra 1–1.5 hours of normal usage time.
Fingerprints
It may be the newness, it might be the space gray color, but I'm seeing a lot more of my greasy fingerprints on the cover of the laptop and on the keyboard.
Opening the laptop when it's on
This is WAYYYY faster. If the laptop is on, you close the lid, wait a minute or two, flip it open, it seems to fire up immediately.
Disclaimer: I prefer Pamplemousse LaCroix, but ran out. Coconut is not an acceptable flavor.
The light-up Apple logo being gone
Yeah. If you didn't know, the Apple logo on the lid no longer lights up. It's just shiny and chrome. This doesn't bother me as much as it bothers other people.
Touch Bar
Did I mention that the Touch Bar on the new MacBook Pro/Gosling really isn't useful? Ugh. I keep trying to find it useful, I honestly do.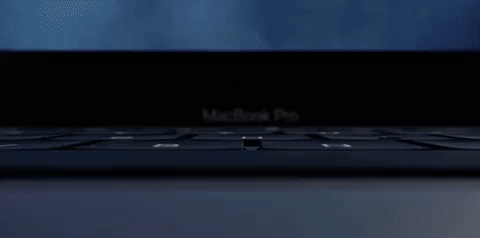 So…….Should you buy a MacBook Gosling?
IF you own a MacBook Clooney, the previous build of MacBook Pro (late 2013–2015), and you aren't low on storage space or feel like your laptop runs slowly, you probably don't need to upgrade*.
IF you own an older MacBook Pro or any generation MacBook, and want a more powerful machine, you should upgrade. Skip the Touch Bar option and spend that money on RAM, storage, and an upgraded graphics card.
IF you own a fairly new iMac, don't upgrade. Unless you're tired of carrying your iMac and cords into your local coffee shop and looking like a weirdo. Then definitely upgrade. And stop being a weirdo.
IF you own a PC of any kind (Dell, Samsung, Sony Vaio, Windows Surface, etc), you should have upgraded years ago and us Apple owners are ashamed of you. Just kidding. But not really.
*This was my use case. I did not NEED to upgrade, but I felt the slight increase in efficiency was worth the investment. I can't completely judge that in just a few days of use, but I'm not unhappy with my purchase either.
Final, last, ending, closing this down, being done reviewing thought…
A fantastically well-designed laptop. Not a revolutionary laptop.
Apple is no longer in the business of being revolutionary. They are in the business of being profitable. Much like big car companies, Apple is releasing incrementally updated products. This new MacBook Pro and the iPhone 5, 6, and 7 were not revolutionary. They were profit generators with some additional hardware and visual improvements.
Don't get me wrong, I'm not upset at Apple. I still use, love, and will purchase their products. But Apple is no longer in the business of shocking us with mind-blowing technological advances.